SPHERE, powered by Safeture is an employee safety platform that checks all the boxes without compromising on usability. We understand your needs and respect your time. This is the technology underpinning our Travel Risk Management services.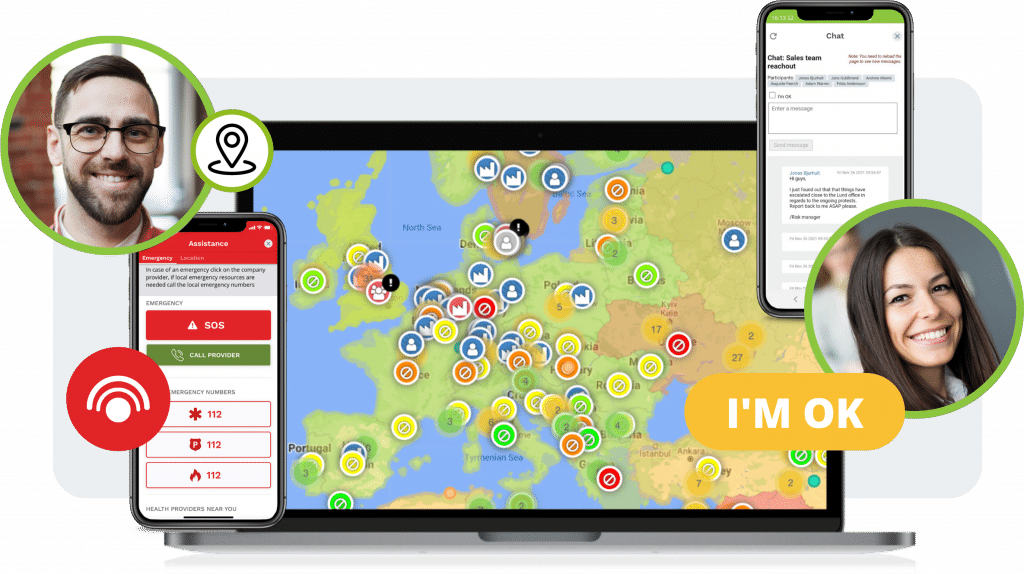 Complex technology, easy to use.
The Platform consists of two interfaces – the Web Portal, used by the administrators, and the mobile application for end-users. If a serious incident happens, we will provide you with an overview of the incident and will inform you which employees could be impacted.
Web Portal – Real-time overview of essential security data
The Web Portal is your primary safety management tool as an administrator. The portal will give you a real-time overview of essential security data for your organisation. By integrating all your travel data, HR databases, risk intelligence, or other systems you already have in place, you get a single access point to your employee safety management.
Mobile Application – Safety in the palm of your hand
As an employee and end-user, the interaction with the Platform is through the Mobile Application. Employees get relevant alerts of nearby incidents, based on their current and future location, and can quickly communicate with our Global Response Centre. In case of an emergency, employees can send their location and get information on travel bookings.
Updates and Product Developments
Technology does not stand still and our technical partner, Safeture, are continually innovating and updating the software to improve your administration and end user experience.
Learn more about the key functions for travel mangers and administrators 
Dashboard – The Dashboard gives you a quick overview of your current risk situation. As an administrator, it allows you to identify events that require you to act quickly (such as ongoing emergencies), end-users that are near incidents, missed scheduled check-ins, travellers in risk zones, etc. The widgets on the Dashboard reflect only relevant information.
User Overview – The User Overview widget lists the users who are travelling and those who are not. Travelling is defined as being located outside the employee's home country, which is automatically detected or set manually. The widget also shows you any employees who have arrived in a new country within the last 24 hours, the number of emergencies, and a list of users registered within the last week.
Emergencies – If an end-user presses the Emergency button in the Mobile Application, a new widget will appear on the Dashboard and a notification, presenting information about the emergency. The Resolve button allows you to view details about the end-user and mark the emergency as resolved, which ends with a short incident report.
Other features include – Risk levels for all countries, missed scheduled check-in notifications, a list of employees who have reported "I'm OK" in response to a medium or high-risk alert, users in high-risk countries, users near high-risk alerts, chats, manual check-ins and the latest alerts.
Experience the new way to protect your employees book a demo today and register for our 30 day free trail sales@securewest.com