The Securewest International Global Response Centre (GRC) recorded 12 maritime related incidents during the reporting period of 1 – 7 June 2021. The following incidents were recorded: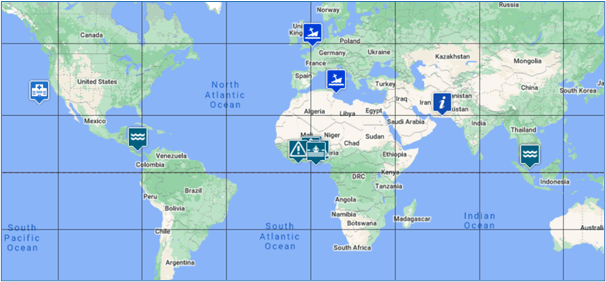 01-JUN-21 – Maritime Information Advisory – Details were released by UKMTO of a live fire exercise taking place, for further information see Link
01-JUN-21 – Migrant and Refugee – At least 23 African migrants drowned in a shipwreck off Tunisia as they tried to cross the Mediterranean from Libya to Italy. 70 migrants were rescued by the Tunisian navy in the incident.
02-JUN-21 – Drugs Interdiction – USCG ACTIVE seized around 5,650 pounds of cocaine with an estimated market value of $107 million during its deployment.
02-JUN-21 – Boarding – A catamaran was boarded by a lone male whilst anchored off Red Frog Marina, Bocas del Toro, Panama. He had apparently tried other hatches, which were all locked.
02-JUN-21 – Boarding – The chief engineer of the bulk carrier NEW LEONIDAS observed four perpetrators armed with knives in the steering gear room while underway in the Eastbound Lane of the Singapore Strait. No one was found and nothing was stolen.
04-JUN-21 – General Security Warning – MDAT GOG have issued the following: Current increased threat of piracy in the Gulf of Guinea through Zones D (North), E & F (East) in the next 36 hours. These areas include geographical waters off Gabon through to Guinea.
04-JUN-21 – Suspicious Approach – Reporting received via MDAT GOG that a small craft with 10 persons on board made a suspicious approach towards a vessel approximately 44NM ESE of Tema, Ghana.
05-JUN-21 – General Security Warning – Increased threat of piracy in ZONE F, GoG – Conakry, Guinea to Lome, Togo.
05-JUN-21 – Robbery – The duty oilier of the bulk carrier CAPE LILY, noticed three intruders in the engine room, whilst underway in the Singapore Strait. Ship's stores items were reported stolen.
06-JUN-21 – Migrant and Refugee – The UK government announced that approximately 600 migrants tried to cross the English Channel over a three day period.
06-JUN-21 – Approach – Vessel confirmed as CP Tianjin, was approached by a small fast boat approximately 200nm S of Cotonou, Benin. The pirates were armed and had intent to board using ladders and a hook. The MV increased speed and commenced evasive manoeuvres to deter any attack.
07-JUN-21 – General Security Warning – MDAT-GoG reports that the piracy threat remains high in the area of the Gulf of Guinea defined by the following coordinates: 05°00'N – 000°00'E 05°00'N – 005°00'E 02°30'N – 005°00'E 02°30'N – 000°00'E.
Key:
Maritime Information Advisory: Notable maritime updates e.g., Military exercises, Curfews and Advisories.

Migrant and Refugee Incident:
This could involve Search and Rescue (SAR) operations, or information about a boat capsizing and people drowning, or an attack on the group.

Drugs Interdiction: Focused on interrupting illegal drugs smuggled by sea, usually a large number of drugs are seized.

Boarding: Unauthorized boarding of a vessel by persons not part of its complement without successfully taking control of the vessel.

Robbery: Theft from a vessel or from persons aboard the vessel.

General Security Warning:
Warnings/Incidents which do not fit in the other categories but enhance the situational awareness.

Suspicious Approach: All other unexplained activity in close proximity by an unknown vessel.
We provide a wide range of Maritime Security and Intelligence services. For further details please contact +44 (0)1548 856 001 or email us.