The Securewest Global Response Centre (GRC) recorded seven maritime related incidents during the reporting period of 11 – 17 May 2020: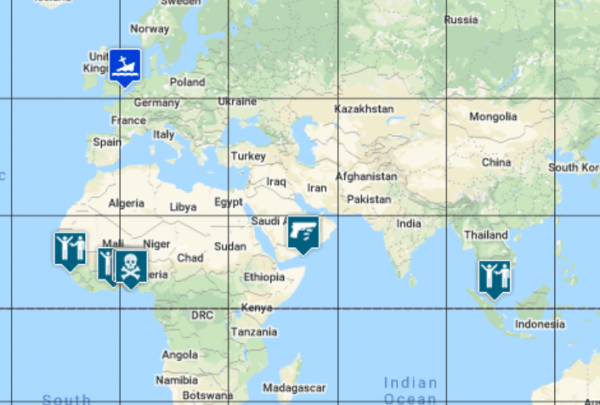 11-MAY-20 – Robbery – A MV was robbed in Takoradi Port, Ghana. It was reported that the robbers stole one of the ships life rafts
14-MAY-20 – Robbery – A MV was robbed in Conakry anchorage, Guinea. Four intruders climbed aboard the MV and robbed the ship and crew of money, personal items and mobile phones
14-MAY-20 – General Security Warning – The vessel MV NIGERIA GRANDE, reported suspicious activity approximately 117 nm SSE of Lome, Togo. MV observed a vessel approximately 80 m in length towing two skiffs
15-MAY-20 – Robbery – The tugboat DOLPHIN I while underway towing KIM HENG 191 barge was boarded and robbed in the Straits of Malacca
16-MAY-20 – Hijacking – Fishing vessel HAILUFENG has been hijacked approximately 120nm SSE of Lome in the Gulf of Guinea
16-MAY-20 – Migrant and Refugee Incident – UK Border Force officers intercepted six boats carrying 90 migrants in the English Channel
17-MAY-20 – Attack – A MV was attacked approximately 94 nm ESE of the port of Mukalla, Yemen
Key:

Migrant and Refugee Incident:
This could involve Search and Rescue (SAR) operations, or information about a boat capsizing and people drowning, or an attack on the group.

Attack: An incident where weapons are discharged by pirates or pirate paraphernalia such as ladders or grappling hooks make contact with the vessel.

General Security Warning: Incidents which do not fit in the other categories, but enhance the situational awareness, e.g. flag state advisories or an attack on a non- commercial vessel such as a warship.

Hijacking: Unauthorized seizure and retention of a vessel by persons not part of its complement.

Robbery: Theft from a vessel or from persons aboard the vessel.
We provide a wide range of Maritime Security and Intelligence services. For further details please contact +44 (0)1548 856 001 or email us.