The Securewest International Global Response Centre (GRC) recorded six maritime-related incidents during the reporting period of 15 – 21 February 2021.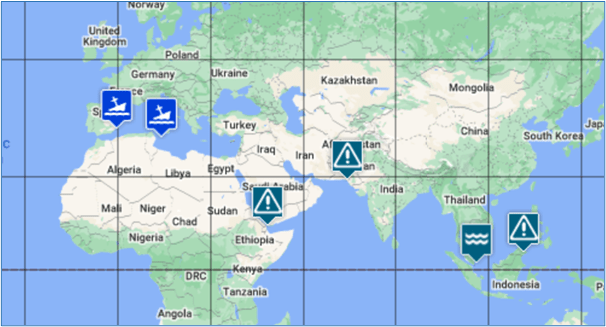 16-FEB-21 – General Security Warning – A Maritime Security Operation (Focused Operation) will be conducted by Combined Task Force (CTF) 151 in the Gulf of Aden between 26 February and 05 March 2021 Link
16-FEB-21 – General Security Warning – The UKMTO reported that Living Firing Practice will be carried out in the following areas Link
16-FEB-21 – General Security Warning – The curfew in the waters off seven districts in the Eastern Sabah Security Zone (ESSZone), has been extended until March 1st.
17-FEB-21 – Boarding – A bulk carrier was boarded approximately 38 nm E of Singapore in the Singapore Strait. Ten intruders armed with knives boarded the vessel. The crew was reported safe.
19-FEB-21 – Migrant and Refugee – 22 Algerian nationals reached the beaches of Costa Blanca in Alicante.
20-FEB-21 – Migrant and Refugee – A boat carrying at least 50 migrants and refugees capsized overnight off the coast of Lampedusa. 45 people have been rescued, the coastguard said five to ten people were believed to be missing.
Key:

General Security Warning: Incidents which do not fit in the other categories, but enhance the situational awareness, e.g. flag state advisories or an attack on a non-commercial vessel such as a warship.


Migrant and Refugee Incident:
This could involve Search and Rescue (SAR) operations, or information about a boat capsizing and people drowning, or an attack on the group.

Boarding: Unauthorized boarding of a vessel by persons, not part of its complement without successfully taking control of the vessel.
We provide a wide range of Maritime Security and Intelligence services. For further details please contact +44 (0)1548 856 001 or email us.