The Securewest Global Response Centre (GRC) recorded six maritime related incidents during the reporting period of 16-22 Dec 2019.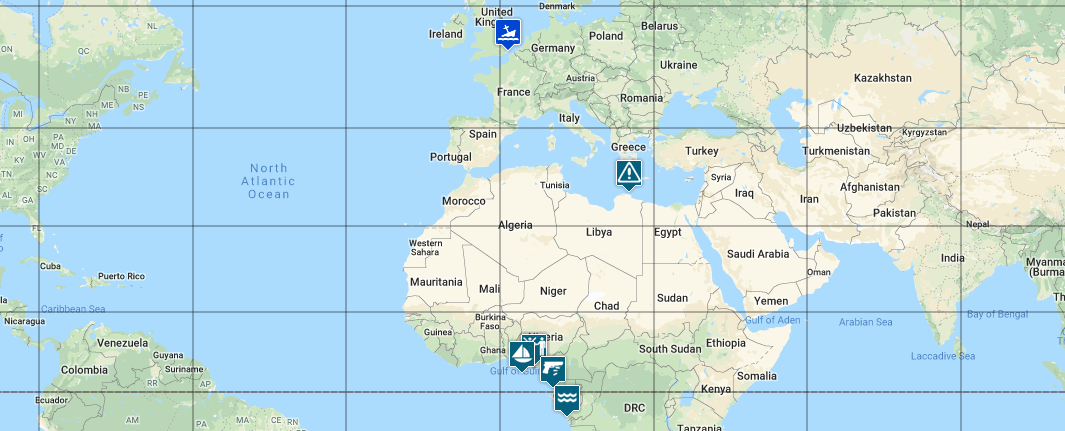 On 17 Dec 19 – Migrant and Refugee – 69 migrants were picked up from five boats off the coast of Kent, United Kingdom.
On 17 Dec 19 – Boarding – An MV was boarded by an unarmed individual at Pointe Noire anchorage, Republic of the Congo.
On 17 Dec 19 – Robbery – Local fishing vessels were robbed by armed men approximately 15 nm WSW off Brass, Nigeria.
On 19 Dec 19 – Mothership – Report of a mother vessel towing a speedboat off the coast of northern Somalia.
On 21 Dec 19 – Attack – Two MV's were approached and attacked by a small craft with six men on board near Owendo anchorage, Gabon.
On 22 Dec 19 – General Security Warning – Libyan National Army seize a Grenada-flagged vessel off the coast of Derna, Libya.
Key:

Migrant and Refugee Incident: This could involve Search and Rescue (SAR) operations, or information about a boat capsizing and people drowning, or an attack on the group

Boarding: Unauthorized boarding of a vessel by persons not part of its complement without successfully taking control of the vessel.

Robbery: Theft from a vessel or from persons aboard the vessel.
Mothership: A vessel captured by pirates predominately to be used to commit acts of piracy against other ships. Pirates remain on board and are in full control of vessel and crew.

Attack: An incident where weapons are discharged by pirates or pirate paraphernalia such as ladder, grappling hook, make contact with the vessel.

General Security Warning:Incidents which do not fit in the other categories, but enhance the situational awareness, e.g. flag state advisories or an attack on a non- commercial vessel such as a warship.
We provide a wide range of Maritime Security and Intelligence services. For further details please contact +44 (0)1548 856 001 or email us.