The Securewest International Global Response Centre (GRC) recorded 10 maritime-related incidents during the reporting period of 16 – 22 March 2021.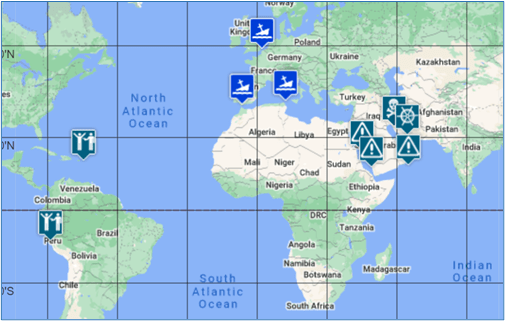 16-MAR-21 – General Security Warning – Saudi-led coalition forces announced during evening hours local time that they have intercepted an explosive-laden vessel approximately 10 NM W of the Yemeni island of Kamaran.
16-MAR-21 – Robbery – An anchored bulk carrier was robbed in Callao Anchorage, Peru. Unseen, perpetrators climbed aboard an anchored bulk carrier, broke into the forecastle stores, stole ship's properties, and made good their escape.
16-MAR-21 – Robbery – Owners found that their in-the-water and not locked 13 ft AB dinghy & 40 HP Yamaha had been stolen overnight, the securing line had been cut.
18-MAR-21 – Migrant and Refugee – At least 39 migrants drowned off Tunisia when two boats capsized. Rescuers pulled 165 survivors from the floundering boats out of the sea to safety.
19-MAR-21 – General Security Warning – MARAD issued an advisory referenced: 2021-004, threat type – GPS Interference. Their full statement can be found here: Link
20-MAR-21 – Migrant and Refugee – OceanViking rescued around 106 children, women & men from an overcrowded dinghy that had run into trouble in international waters around 34 nautical miles from Libya.
21-MAR-21 – General Security Warning – From the 21-MAR-21 to the 25-MAR-21 at 14:42 UTC a military firing practice exercise will be conducted in an area bounded by; 21-06.00N 038-58.50E 21-05.58N 039-07.00E 21-13.40N 038-58.50E 21-13.50N 039-06.20E.
21-MAR-21 – Migrant and Refugee – French maritime authorities said they had rescued 72 migrants in the English Channel.
21-MAR-21 – Hijacking – It has allegedly been reported that a privately owned Iraqi tugboat T-4 ran aground approximately 6NM North of Bushehr Port, Iran. The tug has been removed to an unknown location with a ransom demand of $80,000.
22-MAR-21 – Suspicious Approach – A vessel has reported an alleged suspicious approach approximately 21NM North of Port Mina Saqr in the Strait of Hormuz.
Key:

Hijacking: Unauthorized seizure and retention of a vessel by persons not part of its complement.

Migrant and Refugee Incident:
This could involve Search and Rescue (SAR) operations, or information about a boat capsizing and people drowning, or an attack on the group.

Robbery: Theft from a vessel or from persons aboard the vessel.

General Security Warning: Incidents which do not fit in the other categories, but enhance the situational awareness, e.g. flag state advisories or an attack on a non- commercial vessel such as a warship.

Suspicious Approach: All other unexplained activity in close proximity by an unknown vessel.

We provide a wide range of Maritime Security and Intelligence services. For further details please contact +44 (0)1548 856 001 or email us.