The Securewest International Global Response Centre (GRC) recorded seven maritime related incidents during the reporting period of 16 – 22 November 2020.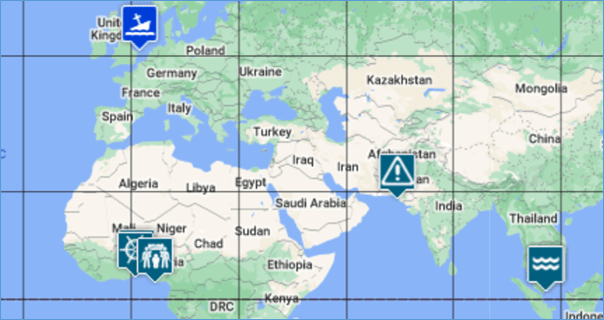 16-NOV-20 – Kidnapping – Reporting indicates that the Ghanaian flagged general cargo vessel AM DELTA has been boarded 44 NM S of Brass, Nigeria. This has resulted in the kidnap of 5 crew
16-NOV-20 – Kidnapping – Communications were lost with MT STELIOS K approximately 40nm S of Lome, Togo. Further reporting states three people have been kidnapped and the attackers have left the MT
17-NOV-20 – Suspicious Approach – MT SKS DONGGANG was approached by one skiff approximately 59 NM SSW of Lome, Togo
17-NOV-20 – Boarding – The Bulk carrier ASIAN SPRING was boarded by three perpetrators whilst underway approximately 3nm N of Palau Nongsa, Indonesia
18-NOV-20 – Boarding – The underway product tanker MTM AMSTERDAM was boarded by two unknown persons armed with knives 29nm E of the Port of Singapore, Asia. The robbers escaped without stealing anything
18-NOV-20 – Migrant and Refugee – The UK Border Force intercepted a fishing vessel with 69 migrants hidden onboard, off Great Yarmouth, Norfolk
18-NOV-20 – General Security Warning – It has been reported that naval ships will carry out Surface, Anti-Aircraft and Depth Charge LIVE FIRING PRACTICE between 0400 to 1700 UTC from 16-20, 23-27 and 30 November 2020. Details – Link
Key:

Boarding: Unauthorized boarding of a vessel by persons not part of its complement without successfully taking control of the vessel.

General Security Warning: Incidents which do not fit in the other categories, but enhance the situational awareness, e.g. flag state advisories or an attack on a non- commercial vessel such as a warship.


Kidnapping: Unauthorized forcible removal of persons belonging to the vessel from it.

Migrant and Refugee Incident: This could involve Search and Rescue (SAR) operations, or information about a boat capsizing and people drowning, or an attack on the group.

Suspicious Approach: All other unexplained activity in close proximity by an unknown vessel.
We provide a wide range of Maritime Security and Intelligence services. For further details please contact +44 (0)1548 856 001 or email us.