The Securewest Global Response Centre (GRC) recorded seven maritime related incidents during the reporting period of 18 – 24 May 2020: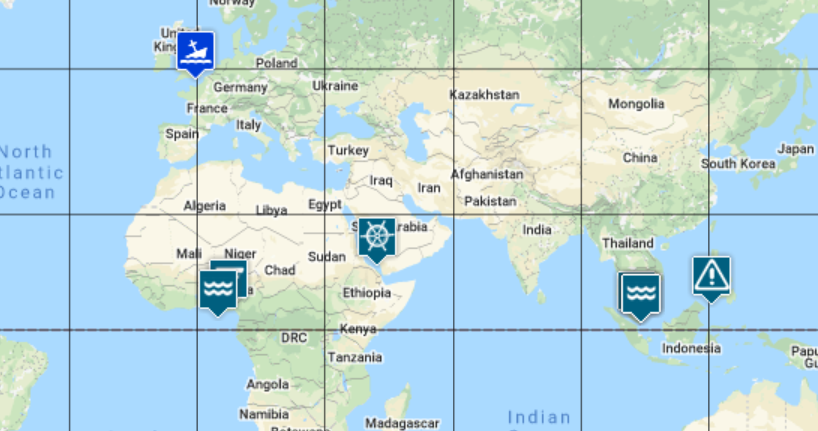 18-MAY-20 – Boarding – A barge under tow was boarded East off Batam Island, Singapore. Six robbers armed with machetes threatened three crew members.
18-MAY-20 – Boarding – The supply vessel WINPOSH RESOLVE was boarded whilst being towed by the Tugboat SMS SANGATTA, 28 nm East of Singapore Port in the strait of Singapore. The crew was safe, and nothing was stolen.
20-MAY-20 – Suspicious Approach – A tanker transiting north in the Red Sea sighted two high-speed skiffs approximately 48 NM southwest of Hodeidah port, the skiffs approached to within 200 m. The individuals in the skiffs made no attempt to board or chase the tanker.
20-MAY-20 – Attack – A motor tanker was reported as being attacked offshore Opobo, Nigeria.
20-MAY-20 – Boarding – A general ship cargo vessel was boarded by seven heavily armed pirates approximately 138 nm SW of Brass, Nigeria. Two Nigerian naval vessels responded. By the time the naval vessels arrived the pirates had left.
20-MAY-20 – Migrant and Refugee Incident – Four boats were intercepted in the English Channel in the early hours and a fifth on the previous day with a total of 64 people onboard.
22-MAY-20 – General Security Warning – The IMB PRC has received information from Philippine coastguard that the Sulu based Abu Sayyef Group (ASG) group is planning kidnapping operations in/off Sabah targeting foreigners/seafarers in the month of May.
Key:

Migrant and Refugee Incident:
This could involve Search and Rescue (SAR) operations, or information about a boat capsizing and people drowning, or an attack on the group.

Attack: An incident where weapons are discharged by pirates or pirate paraphernalia such as ladders or grappling hooks make contact with the vessel.

General Security Warning: Incidents which do not fit in the other categories, but enhance the situational awareness, e.g. flag state advisories or an attack on a non- commercial vessel such as a warship.

Boarding: Unauthorized boarding of a vessel by persons not part of its complement without successfully taking control of the vessel.

Suspicious Approach: All other unexplained activity in close proximity by an unknown vessel.
We provide a wide range of Maritime Security and Intelligence services. For further details please contact +44 (0)1548 856 001 or email us.