The Securewest International Global Response Centre (GRC) recorded 5 maritime related incidents during the reporting period of 18 – 24 May 2021. The following incidents were recorded: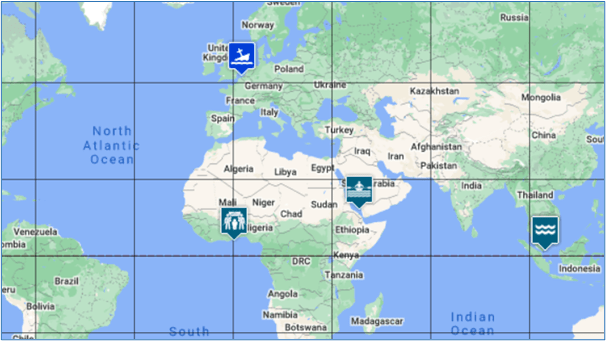 18-MAY-21 – Approach – A research NGO vessel was approached approximately 47 nm W of Al Hudaydah Port, Yemen. Four people onboard a small boat fired shots into the air. No injuries were reported.
19-MAY-21 – Kidnapping – Reports indicate that FV ATLANTIC PRINCESS was boarded approximately 63 nm SSE of Accra, Ghana. Vessel was approached by one speedboat with eight personnel onboard and was reportedly fired upon prior to being boarded by five armed men, which resulted in five crew members being kidnapped.
20-MAY-21 – Migrant and Refugee – Belgium authorities have brought 49 migrants to shore after their boat ran into difficulties.
23-MAY-21 – Boarding – Four robbers armed with knives boarded an underway bulk carrier 28nm E of the Port of Singapore. The robbers escaped without stealing anything.
23-MAY-21 – Boarding – Duty crew on the underway bulk carrier 24nm E of the Port of Singapore, noticed unauthorized persons in the engine room of the vessel and raised the alarm. A full search was carried out. No unauthorized persons were onboard.
Key:

Approach: Any event that is suspicious enough to warrant consideration and includes actions by a suspicious vessel closing on a steady bearing, having a very close CPA, and/or pirate paraphernalia/weapons clearly seen on display as a show of force.

Migrant and Refugee Incident:
This could involve Search and Rescue (SAR) operations, or information about a boat capsizing and people drowning, or an attack on the group.

Kidnapping: Unauthorized forcible removal of persons belonging to the vessel from it.

Boarding: Unauthorized boarding of a vessel by persons not part of its complement without successfully taking control of the vessel.
We provide a wide range of Maritime Security and Intelligence services. For further details please contact +44 (0)1548 856 001 or email us.