The Securewest International Global Response Centre (GRC) recorded eight maritime-related incidents during the reporting period of 2 – 8 March 2021.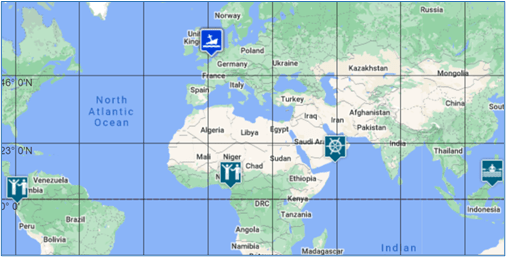 02-MAR-21 – Migrant and Refugee – French authorities reported that three Sudanese migrants were rescued late at night attempting to cross the English Channel.
02-MAR-21 – Migrant and Refugee – The UK Home Office reported that Border Force intercepted 66 migrants travelling in four boats attempting to cross the English Channel. The same day French authorities reported they prevented 22 migrants in two boats.
03-MAR-21 – Approach – Whilst underway, the AKIJ PEARL reported that a skiff carrying three persons had made an approach of the vessel 11nm SE of Sibutu Island, Tawi Tawi. Also confirmed that the perpetrators had attempted to board.
04-MAR-21 – Migrant and Refugee – 15 migrants were intercepted by the UK Border Force crossing the English Channel in an inflatable dinghy and tyre inner tubes.
06-MAR-21 – Robbery – A MV was robbed in Douala anchorage, Cameroon. The theft was noted by the crew during routine rounds.
06-MAR-21 – Robbery – The underway container ship PACORA was robbed by armed perpetrators after leaving Guayaquil, Ecuador. They disembarked the vessel loading two boats with the stolen goods.
07-MAR-21 – Migrant and Refugee – Fifty people in three small boats were intercepted while attempting to cross the English Channel. The UK home office later said that a fourth boat was sent back to France, and authorities in France stopped another crossing by a dinghy carrying 17 people.
08-MAR-21 – Suspicious Approach – An unnamed MV reported that they were approached by four small craft, each with two POB, approximately 150 NM SW of Salalah, Oman.
Key:

Approach: An incident where weapons are trained on the vessel or pirate paraphernalia such as weapons, ladders, are observed and the intention to conduct an attack is clear.

Migrant and Refugee Incident:
This could involve Search and Rescue (SAR) operations, or information about a boat capsizing and people drowning, or an attack on the group.

Robbery: Theft from a vessel or from persons aboard the vessel.

Suspicious Approach: All other unexplained activity in close proximity by an unknown vessel.

We provide a wide range of Maritime Security and Intelligence services. For further details please contact +44 (0)1548 856 001 or email us.