The Securewest International Global Response Centre (GRC) recorded 10 maritime related incidents during the reporting period of 4 – 10 Jan 2022.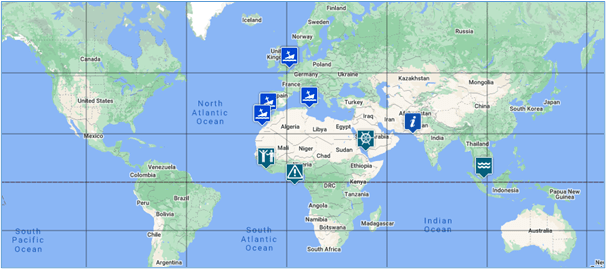 The following incidents were recorded:
04-JAN-22: Maritime Information Advisory – A U.S. Maritime Advisory was advisory was issued: Piracy/Armed Robbery/Kidnapping for Ransom (KFR) serve as a significant threat to U.S. flagged vessels transiting or operating in the Gulf of Guinea (GoG), and U.S. mariners onboard a vessel or transiting to or from a vessel in the GoG. – Link
04-JAN-22: Migrant and Refugee Incident – The United Kingdom RNLI landed 60 migrants in the Port of Dover after rescue in the English Channel.
04-JAN-22: Migrant and Refugee Incident – Vessel Louise Michel rescues over 100 migrants off the coast of Tunisia.
04-JAN-22: Migrant and Refugee Incident – US and Moroccan naval boats rescue 103 migrants 40nm miles off the Moroccan coast.
05-JAN-22: Approach – An MV reported a close approach by an unknown craft 30nm W of Port Saleef, Yemen.
05-JAN-22: Migrant and Refugee Incident – Authorities intercept 105 migrants off the coast off Tarfaya, Morocco.
07-JAN-22: Boarding- Underway tanker BLUE SEA boarded in the Singapore Straits.
08-JAN-22: Maritime Information Advisory – The UKMTO issued notice 002/JAN/2022 advising that Live Firing Practice will take place between 0400 and 1700 UTC from 10-14, 17-21, 24-28, and 31 Jan 2022 in the Arabian Sea south of Karachi, Pakistan. Link
09-JAN-22: Robbery – A tanker was robbed at Monrovia Anchorage, Liberia.
10-JAN-22: Migrant and Refugee Incident – UK Border Force and RNLI rescue around 100 migrants from the English Channel

Migrant and Refugee Incident: 
This could involve Search and Rescue (SAR) operations, or information about a boat capsizing and people drowning, or an attack on the group.

Boarding: Unauthorized boarding of a vessel by persons not part of its complement without successfully taking con

trol of the vessel.

Approach: 
Any event that is suspicious enough to warrant consideration and includes actions by a suspicious vessel closing on a steady bearing, having a very close CPA, and/or pirate paraphernalia/weapons clearly seen on display as a show of force.
Maritime Information Advisory: Notable maritime updates e.g., Military exercises, Curfews and Advisories.
We provide a wide range of Maritime Security and Intelligence services. For further details please contact +44 (0)1548 856 001 or email us.