The Securewest International Global Response Centre (GRC) recorded six maritime related incidents during the reporting period of 21 – 27 September 2020.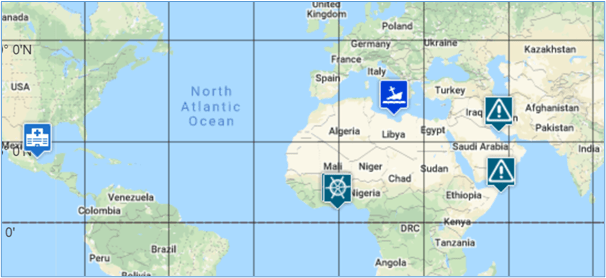 21-SEP-20 – Drug Interdiction – The Mexican Navy seized the product tanker BLUE COMMANDER at Veracruz Port in Mexico. It is alleged the vessel with 21 crew members were transporting illegal fuel.
22-SEP-20 – General Security Warning – U.S. MARITIME ADVISORY 2020-016 Threat Type: GPS Interference Geographic Area: Various – MSCI Advisory – 2020-016
22-SEP-20 – Suspicious Approach – The HAFNIA PHOENIX was approached approximately 71 NM SE of Takoradi, Ghana, the skiff came within half a mile of the tanker. The master carried out anti-piracy measures which lead to the perpetrators aborting their approach.
24-SEP-20 – Migrant and Refugee – Three people died and 13 are feared drowned after a boat carrying refugees and migrants capsized off Libya's coast.
25-SEP-20 – General Security Warning – UKMTO released on behalf of the Combined Maritime Forces in Bahrain, the information that there will be a Maritime Security Operation (Focused Operation) by Combined Task Force (CTF)151, in areas off the Somali coast, Socotra Gap and the vicinity of the IRTC between 1st and 7th of October 2020.
26-SEP-20 – Suspicious Approach – Reporting indicates that the fishing vessel AGNES 1 was chased by a speed boat carrying 8-10 persons 110 NM SSE of Takoradi, Ghana. The vessel undertook evasive manoeuvres and the speedboat left.
Key:

Migrant and Refugee Incident: This could involve Search and Rescue (SAR) operations, or information about a boat capsizing and people drowning, or an attack on the group.

General Security Warning: Incidents which do not fit in the other categories, but enhance the situational awareness, e.g. flag state advisories or an attack on a non- commercial vessel such as a warship.

Suspicious Approach: All other unexplained activity in close proximity by an unknown vessel.

Drug Interdiction: Focused on interrupting illegal drugs smuggled by sea, usually large amounts of drugs seized
We provide a wide range of Maritime Security and Intelligence services. For further details please contact +44 (0)1548 856 001 or email us.