The Securewest International Global Response Centre (GRC) recorded 8 maritime related incidents during the reporting period of 22 – 28 June 2021. The following incidents were recorded: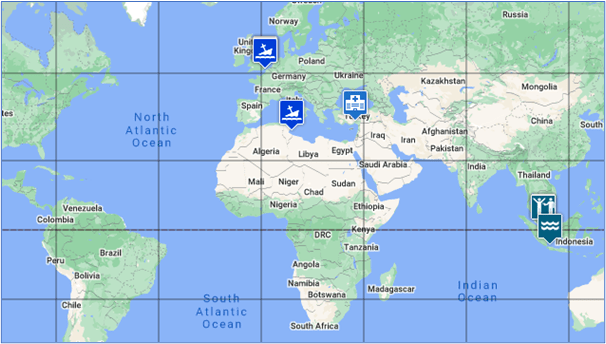 23-JUN-21 – Drug Interdiction – Turkish authorities reported seizing 463kg of cocaine from a shipping container at the Port of Mersin in Turkey.
24-JUN-21 – Migrant and Refugee – Seventy-one migrants were intercepted on several boats in the English Channel.
24-JUN-21 – Boarding – The container ship BALTIC NORTH was boarded in Jakarta Anchorage, Indonesia. Duty Able bodied onboard, spotted two intruders, who escaped in a waiting boat.
25-JUN-21 – Migrant and Refugee – Tunisia's defence ministry reported that its navy had rescued 178 migrants who were trying to cross the Mediterranean from Libya to reach Europe.
26-JUN-21 – Boarding – The bulk carrier, BUSAN STAR, was boarded while underway northwest of Bintan Island, Indonesia. One unauthorized person armed with a knife was sighted at the steering gear flat of the ship. The perpetrator escaped upon being sighted.
26-JUN-21 – Robbery – The bulk carrier, SAKIZAYA CHAMPION, was boarded northwest of Bintan Island, Indonesia. Four unauthorised persons were sighted in the engine room. Some engine spares were stolen.
26-JUN-21 – Migrant and Refugee – 110 people were intercepted crossing of the English Channel.
27-JUN-21 – Migrant and Refugee – Up to 60 migrants were picked up in a dinghy in the English Channel and were taken to Dover Marina.
Key:

Migrant and Refugee Incident:
This could involve Search and Rescue (SAR) operations, or information about a boat capsizing and people drowning, or an attack on the group.

Drugs Interdiction: Focused on interrupting illegal drugs smuggled by sea, usually a large number of drugs are seized.

Robbery: Theft from a vessel or from persons aboard the vessel.

Boarding: Unauthorized boarding of a vessel by persons not part of its complement without successfully taking control of the vessel.
We provide a wide range of Maritime Security and Intelligence services. For further details please contact +44 (0)1548 856 001 or email us.