The Securewest International Global Response Centre (GRC) recorded seven maritime related incidents during the reporting period of 26 October – 1 November 2020.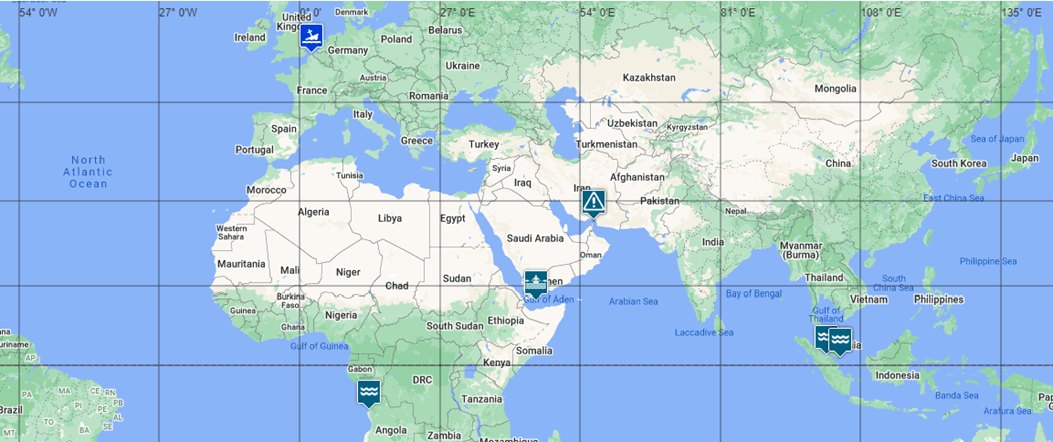 26-OCT-20 – Boarding – at 01:30, whilst underway the bulk carrier EL MATADOR was boarded in exact position unknown, about 3.2 nm from Nongsa Point, Pulau Bantam, Indonesia.
26-OCT-20 – Boarding – at 00:46 the underway bulk carrier A RACER, was approached in exact position unknown, about 2.3 nm N of Pulau Nongsa, Indonesia.
26-OCT-20 – Boarding – at 01:25, an anchored offshore supply ship was boarded in position 08 44 00 S, 013 17 00 E, in Luanda anchorage, Angola.
27-OCT-20 – Boarding – at 21:05 UTC, an anchored chemical tanker was boarded in position 01 42 05 N, 101 28 02 E in Dumai Anchorage, North Sumatra, Indonesia.
27-OCT-20 – Migrant and Refugee – the AFP news agency reported that 17 migrants were rescued after their vessel sank near Dunkirk.
29-OCT-20 – Approach – at 04:50 UTC, an underway merchant vessel was approached by a skiff in approximate position 12 00 00 N, 045 32 00 E, Gulf of Aden.
01-NOV-20 – General Security Warning – it was reported that the Iranian Military forces are conducting an exercise with live firing.
Key:

Migrant and Refugee Incident: This could involve Search and Rescue (SAR) operations, or information about a boat capsizing and people drowning, or an attack on the group.

Boarding: Unauthorized boarding of a vessel by persons not part of its complement without successfully taking control of the vessel.

Approach: An incident where weapons are trained on the vessel or pirate paraphernalia such as weapons, ladders, are observed and the intention to conduct an attack is clear.


General Security Warning: Incidents which do not fit in the other categories, but enhance the situational awareness, e.g. flag state advisories or an attack on a non- commercial vessel such as a warship.

We provide a wide range of Maritime Security and Intelligence services. For further details please contact +44 (0)1548 856 001 or email us.