The Securewest International Global Response Centre (GRC) recorded six maritime related incidents during the reporting period of 27 December 2020 – 3 January 2021.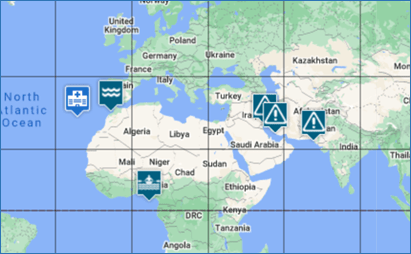 28-DEC-20 – General Security Warning – It was reported that LIVE FIRING PRACTICE will take place between 00:01 and 23:59 local time on the 26th December 2020 to 6th January 2021 within the following areas – Link
29-DEC-20 – Approach – A MT reported being approached by one small fast craft with five armed persons on board approximately 100nm S of Brass, Nigeria.
29-DEC-20 – Drug Interdiction – Spanish law enforcement agencies intercepted and seized a tug, approximately 180 NM NW of Grand Canary, Canary Islands. Some 18 tonnes of hashish packed in bales were found on board.
31-DEC-20 – General Security Warning – It has been reported that the Liberian flagged MT POLA identified a suspicious object attached to the vessel hull whilst conducting StS 6 nm South Al Bakr Terminal offshore in Iraq.
01-JAN-21 – Boarding – Several perpetrators, armed with knives and clubs, sneaked on board of car carrier VIKING DIAMOND, berthed at Casablanca, Morocco. The crew fought the intruders causing them to flee.
01-JAN-21 – General Security Warning – Pakistan Navy will be conducting Live Fire exercises throughout January 2021 at the following locations – Link
Recent Notable Incidents
04-JAN-21 – Robbery – MV was robbed in Pointe Noire North Anchorage, Republic of Congo. Three intruders were seen on the forecastle, the crew immediately mustered in the citadel and raised the alarm. The intruders made good their escape with two mooring lines. Crew and vessel reported safe.
04-JAN-21 – General Security Warning – Reporting indicates that the South Korean flagged Chemical Tanker HANKUK CHEMI (IMO9232369) has diverted from her course northwards into Iranian Territorial Waters (ITW) while inbound to Fujairah from Al Jubail. Unconfirmed reporting indicates that the vessel has been detained by Iranian forces. The vessel has a crew of 23 comprising of Indonesian and Burmese nationals. – Link
Key:

Boarding: Unauthorized boarding of a vessel by persons not part of its complement without successfully taking control of the vessel.

General Security Warning: Incidents which do not fit in the other categories, but enhance the situational awareness, e.g. flag state advisories or an attack on a non-commercial vessel such as a warship.


Drugs Interdiction:
Focused on interrupting illegal drugs smuggled by sea, usually large amounts of drugs seized

Approach:
An incident where weapons are trained on the vessel or pirate paraphernalia such as weapons, ladders, are observed and the intention to conduct an attack is clear.
Robbery:
Theft from a vessel or from persons aboard the vessel.

We provide a wide range of Maritime Security and Intelligence services. For further details please contact +44 (0)1548 856 001 or email us.