The Securewest Global Response Centre (GRC) recorded nine maritime related incidents during the reporting period of 27 Jan – 02 Feb 2020.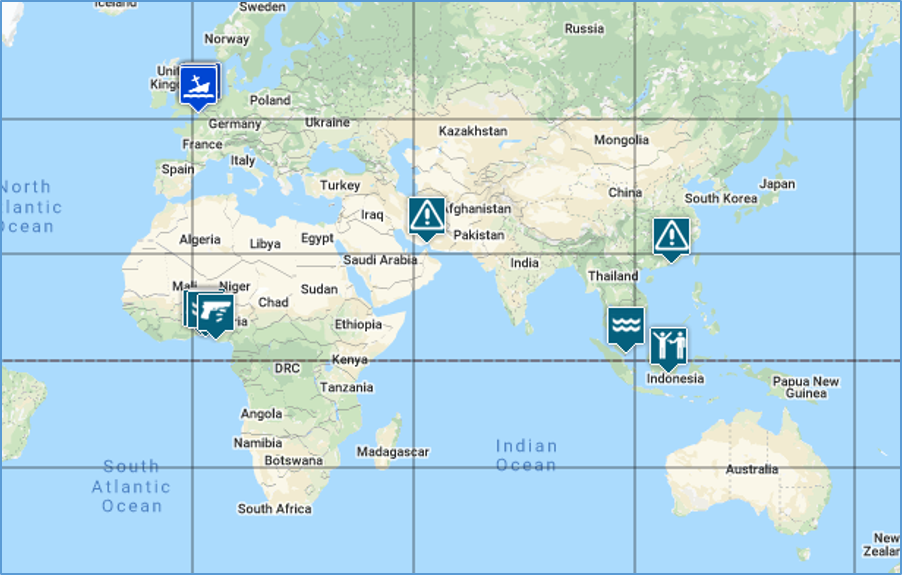 27-JAN-20 – Drugs Interdiction – Portuguese forces announced that they had intercepted a sailing yacht in the North Atlantic carrying 1,820 kilograms of cocaine.
28-JAN-20 – Boarding – Anchored product tanker MINERVA MEDITERRANEA was boarded in Callao Anchorage, Peru. Two skiffs came alongside with two unauthorised persons boarding the tanker.
28-JAN-20 – Robbery – The bulk carrier PAPORA WISDOM, while underway through the Singapore Strait Eastbound, sighted two perpetrators in the engine room.
29-JAN-20 – Robbery – An anchored container ship COSCO SAO PAULO in South Anchorage, Philippines was robbed of ships stores.
29-JAN-20 – General Security Warning – The UKMTO reported that the vessel ZOYA1 is on fire approximately 21nm NW of Sharjah, UAE. Early indications are that the fire occurred during maintenance and that all crew are safe.
29-JAN-20 – Robbery – A berthed MV was robbed in Onne port Nigeria. Vessel was boarded by one man who took some items on the deck.
30-JAN-20 – Attack – A trading vessel was attacked approximately 5nm SW of Limbe, Cameroon. A speed boat with six or seven armed men attacked the vessel.
30-JAN-20 – Attack -A yacht in Luperon Bay was robbed. The thief had gained entry via the companionway and used tools to remove the boats locking hardware.
30-JAN-20 – General Security Warning – The US Maritime Advisory issued the following information Advisory: Novel Coronavirus Outbreak Link
Key:

Robbery: Theft from a vessel or from persons aboard the vessel.

Drugs Interdiction: Focused on interrupting illegal drugs smuggled by sea, usually a large amount of drugs are seized.

Boarding: Unauthorized boarding of a vessel by persons not part of its complement without successfully taking control of the vessel.

General Security Warning: Incidents which do not fit in the other categories, but enhance the situational awareness, e.g. flag state advisories or an attack on a non- commercial vessel such as a warship

Attack: An incident where weapons are discharged by pirates or pirate paraphernalia such as ladder, grappling hook, make contact with the vessel.
.
We provide a wide range of Maritime Security and Intelligence services. For further details please contact +44 (0)1548 856 001 or email us.