The Securewest International Global Response Centre (GRC) recorded 10 maritime related incidents during the reporting period of 28 September – 4 October 2020.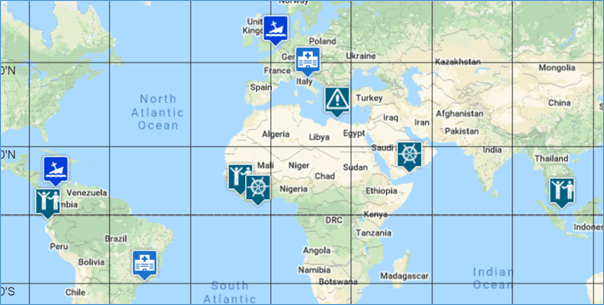 29-SEP-20 – Robbery – Unauthorised persons boarded an anchored tanker CHAMPION PRINCE approximately 22nm NE of Tg. Berakit, Pulau Bintan, Indonesia. The robbers broke into the aft store, stole ship's spares, and escaped.
30-SEP-20 – Migrant and Refugee – Colombian fishermen rescued 94 Haitian migrants who were adrift on a motorboat in the Caribbean.
30-SEP-20 – Drugs Interdiction – The Bulk carrier ADRIENNE arrived at Ancona port, Italy, from Brazil via Spain. 216 kilos of cocaine, wrapped in packages, were found in one of ship's storerooms.
30-SEP-20 – Migrant and Refugee – Three boats have been intercepted in the English Channel. The Home Office said the vessels were carrying 48 people.
01-OCT-20 – General Security Warning – The Port of Benghazi Maritime Authority has notified mariners via circular that two areas in the vicinity of Benghazi and Tobruk will be designated as Military Exclusion Zones between 01 Oct – 15 Oct 2020.
01-OCT-20 – Robbery – A MV was robbed by an intruder whilst berthed at Monrovia, Liberia. The intruder was spotted by the crew and made his escape by jumping into the sea.
01-OCT-20 – Suspicious Approach – The fishing vessel SEA HONOR reported a suspicious approach approximately 183 nm SSW of Abidjan, Côte d'Ivoire. Reports suggest that the vessel was approached within 3 nm by a blue speedboat. It is understood that the vessel conducted evasive manoeuvres and increased speed.
02-OCT-20 – Drugs Interdiction – The general cargo ship UNISPIRIT was searched by Brazilian Federal Police at São Sebastiano Port, Brazil. 5 tons of cocaine were found hidden in big bags.
02-OCT-20 – Robbery – A container vessel under pilotage was approached and boarded by robbers armed with guns within the river passage approaching Guayaquil, Ecuador. The robbers fired their weapons towards the accommodation area and escaped with cargo stolen from the containers.
04-OCT-20 – Suspicious Approach – A MT 41nm SE of the Port of Mukalla, Yemen was approached by two skiffs with 4-5 people on board, when AST delivered warning shots, the skiffs broke away.
Key:

Migrant and Refugee Incident: This could involve Search and Rescue (SAR) operations, or information about a boat capsizing and people drowning, or an attack on the group.

General Security Warning: Incidents which do not fit in the other categories, but enhance the situational awareness, e.g. flag state advisories or an attack on a non- commercial vessel such as a warship.

Suspicious Approach: All other unexplained activity in close proximity by an unknown vessel.

Drug Interdiction: Focused on interrupting illegal drugs smuggled by sea, usually large amounts of drugs seized
Robbery:
Theft from a vessel or from persons aboard the vessel.

We provide a wide range of Maritime Security and Intelligence services. For further details please contact +44 (0)1548 856 001 or email us.