The Securewest International Global Response Centre (GRC) recorded 8 maritime related incidents during the reporting period of 29 June – 5 July 2021.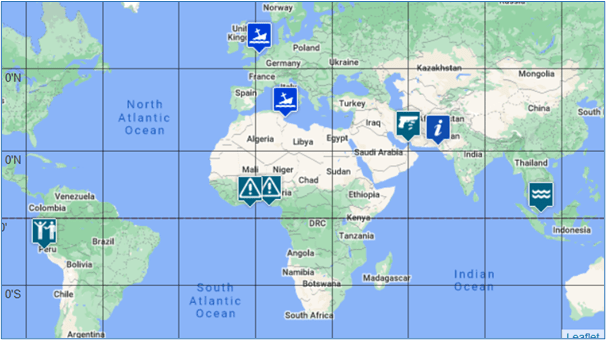 The following incidents were recorded:
30-JUN-21 – Boarding – The underway bulk carrier J MARE was boarded by four perpetrators whilst in position 38nm E of Singapore Port, Singapore. The perpetrators escaped upon being sighted. Nothing was reported as stolen.
30-JUN-21 – General Security Warning – MDAT-GOG reported an increased threat of piracy in Zone F in the Gulf of Guinea.
30-JUN-21 – Robbery – The tanker MAERSK BORNEO, was boarded whilst at Callao Anchorage in Peru. After a search was conducted it was found that ship's spares had been taken.
02-JUL-21 – Maritime Information Advisory – It was confirmed that firing with live ammunition by Air Defence units will be carried out on 06th and 08th July, further details – Link
03-JUL-21 – Attack – An underway container ship CSAV TYNDALL was reportedly attacked in the Strait of Hormuz. Full details are yet to be confirmed.
03-JUL-21 – Migrant and Refugee – At least 43 migrants and refugees are feared to have drowned while 84 were rescued after a shipwreck off Tunisia's coast.
04-JUL-21 – Migrant and Refugee – UK authorities intercepted six attempted crossings involving 212 people, adding that French authorities reported seven interceptions, preventing 238 people from reaching the UK.
05-JUL-21 – General Security Warning – The following was issued by MDAT-GOG; Mariners are advised to exercise extreme caution when transiting this area. (Zone E) Coordinates: A) 023000N 0073000E B) 023000N 0023000E C) 050000N 0023000E D) 050044N 0051317E E) 042059N 0060326E F) 043532N 0072606E.
Key:

General Security Warning: Warnings/Incidents which do not fit in the other categories but enhance the situational awareness.

Migrant and Refugee Incident:
This could involve Search and Rescue (SAR) operations, or information about a boat capsizing and people drowning, or an attack on the group.

Attack:
It is clear that weapons have been discharged against the vessel or a clear attempt to board the vessel has been made by the attacking vessel (s).

Robbery: Theft from a vessel or from persons aboard the vessel.

Boarding: Unauthorized boarding of a vessel by persons not part of its complement without successfully taking control of the vessel.
We provide a wide range of Maritime Security and Intelligence services. For further details please contact +44 (0)1548 856 001 or email us.