The Securewest International Global Response Centre (GRC) recorded 8 maritime related incidents during the reporting period of 3 – 9 Aug 2021.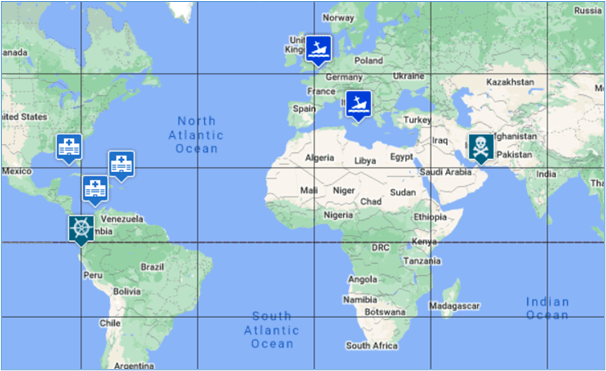 The following incidents were recorded:
03-AUG-21 – Hijacking – It was reported that the MV ASPHALT PRINCESS was boarded by up to nine armed individuals approximately 61nm E of Fujairah, UAE. Although it is unknown who hijacked the ship, there is suspicion that Iranian forces are involved. Ship is now safe as the perpetrators have left the ship.
03-AUG-21 – Drugs Interdiction – Colombian officials announced that 116 tons of cocaine had been seized during multiple joint military operations between 15 May and 30 June 2021.
04-AUG-21 – Migrant and Refugee – The UK Border Force reported dealing with 21 migrant boats attempting to cross the English Channel, intercepting 482 migrants. French authorities reported that they intercepted a further 246 in eight boats.
05-AUG-21 – Migrant and Refugee – 475 migrants crossed the English Channel in 15 small boats on Thursday.
05-AUG-21 – Drugs Interdiction – The US Coast Guard offloaded $12M (430kg) of cocaine, from cutter JOSEPH NAPIER in Puerto Rico.
05-AUG-21 – Drugs Interdiction – The US Coast Guard announced it had seized approximately $1.4 billion worth of cocaine (27 tons) and cannabis (650kg) during several operations.
05-AUG-21 – Suspicious Approach – A container ship reported a suspicious approach approximately 1.45 nm S of Puerto La Seca, Equador. The duty crew observed a skiff with five persons onboard. The alarm was raised and seeing the crew alert, the skiff turned away.
07-AUG-21 – Migrant and Refugee – A German charity announced that it docked at the port of Trapani, in western Sicily, with 257 migrants on board.

Hijacking:
Unauthorized seizure and retention of a vessel by persons not part of its complement.

Migrant and Refugee Incident:
This could involve Search and Rescue (SAR) operations, or information about a boat capsizing and people drowning, or an attack on the group.

Drugs Interdiction: Focused on interrupting illegal drugs smuggled by sea, usually a large number of drugs are seized.

Suspicious Approach: All other unexplained activity in close proximity by an unknown vessel.
We provide a wide range of Maritime Security and Intelligence services. For further details please contact +44 (0)1548 856 001 or email us.