The Securewest International Global Response Centre (GRC) recorded five maritime related incidents during the reporting period of 31 August – 6 September 2020.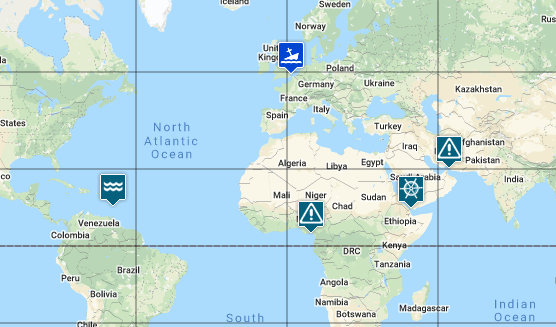 31-AUG-20 – Suspicious Approach – An underway tanker was approached by two skiffs approximately 25nm SE of Perim Island. The skiffs aborted their approach upon seeing the vessel's security team onboard
02-SEP-20 – Migrant and Refugee Incident – 409 migrants crossed the English Channel to reach UK shores in small boats
03-SEP-20 – General Security Warning – MDAT GOG have released a security warning: Information indicates an armed group from Rivers State, are planning a piracy attack against vessels in area D
03-SEP-20 – Boarding – An anchored yacht was boarded while the owners slept on board near Young Islands in St Vincent and the Grenadines
04-SEP-20 – General Security Warning – It has been reported to UKMTO that Iranian military forces will be conducting a military exercise with a possible live missile, gun or rocket firing and GPS jamming between 0130 UTC 04 SEP 20 and 1830 UTC 10 SEP 20 in the Gulf of Oman REA
Key:

Migrant and Refugee Incident: This could involve Search and Rescue (SAR) operations, or information about a boat capsizing and people drowning, or an attack on the group.

Boarding: Unauthorized boarding of a vessel by persons not part of its complement without successfully taking control of the vessel.

Suspicious Approach: All other unexplained activity in close proximity by an unknown vessel.

General Security Warning: Incidents which do not fit in the other categories, but enhance the situational awareness, e.g. flag state advisories or an attack on a non- commercial vessel such as a warship.
We provide a wide range of Maritime Security and Intelligence services. For further details please contact +44 (0)1548 856 001 or email us.