The Securewest International Global Response Centre (GRC) recorded 7 maritime related incidents during the reporting period of 4 – 10 May 2021. The following incidents were recorded: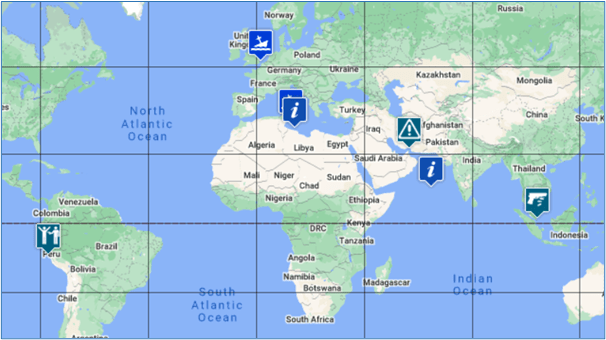 04-MAY-21 – Robbery – The anchored product tanker ADMIRAL was boarded in Callao Anchorage, Peru. Four robbers armed with knives kidnapped and imprisoned the Duty AB. The robbers left the vessel with the AB personal items and ships property.
06-MAY-21 – Maritime Information Advisory – An Italian Navy ship has rescued a crew member of an Italian fishing boat reportedly injured by warning shots fired by the Libyan Coast Guard, Italian media reported.
06-MAY-21 – Maritime Information Advisory – The cruiser USS Monterrey intercepted a massive shipment of arms from a stateless dhow in international waters of the North Arabian Sea.
08-MAY-21, – Migrant and Refugee – The Home Office said 130 people managed to cross the English Channel in six small boats over the weekend.
09-MAY-21 – Migrant and Refugee – Nine boats packed with aprox 1,200 migrants arrived on the southern Italian island of Lampedusa.
09-MAY-21 – Attack – Perpetrators attempted to board the Greek flagged tanker, ASTRO PERSEUS, in the Eastbound lane of the Malacca Strait TSS. The master made evasive manoeuvres and prevented the attempted boarding.
10-MAY-21 – General Security Warning – A US Coast Guard ship fired warning shots at Iranian boats that came close to American naval vessels in the Strait of Hormuz.
Key:
Maritime Information Advisory: Notable maritime updates e.g., Military exercises, Curfews and Advisories


Migrant and Refugee Incident:
This could involve Search and Rescue (SAR) operations, or information about a boat capsizing and people drowning, or an attack on the group.

General Security Warning: Incidents which do not fit in the other categories, but enhance the situational awareness, e.g. flag state advisories or an attack on a non- commercial vessel such as a warship.

Attack: It is clear that weapons have been discharged against the vessel or a clear attempt to board the vessel has been made by the attacking vessel (s).

Robbery: Theft from a vessel or from persons aboard the vessel.
We provide a wide range of Maritime Security and Intelligence services. For further details please contact +44 (0)1548 856 001 or email us.