The Securewest Global Response Centre (GRC) recorded three maritime related incidents during the reporting period of 9-15 March 2020: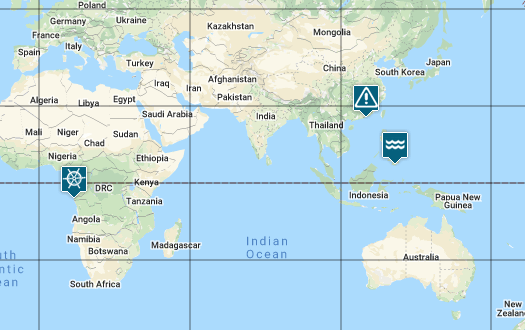 12-MAR-20 – Boarding – The anchored chemical tanker ENDEAVOUR II was boarded in General Santos anchorage, Philippines. Intruders escaped and nothing was stolen
15-MAR-20 – General Security Warning – U.S. Maritime 2020-006-Global-Novel Coronavirus Outbreak Advisory
15-MAR-20 – Suspicious Approach – An anchored MV was approached in Kwanda Anchorage area, Angola. Two skiffs carrying four and six persons, one weapon was sighted onboard of one skiff
Key:

Boarding: Unauthorized boarding of a vessel by persons not part of its complement without successfully taking control of the vessel.

General Security Warning: Incidents which do not fit in the other categories, but enhance the    situational awareness, e.g. flag state advisories or an attack on a non- commercial vessel such as a warship

Suspicious Approach: All other unexplained activity in close proximity by an unknown vessel.
We provide a wide range of Maritime Security and Intelligence services. For further details please contact +44 (0)1548 856 001 or email us.