Securewest carried out market research to learn the main challenges for the higher education sector regarding travelling and travel risk management post-Covid-19. We conducted the survey between 28th May and 12th June, just as the UK and European 'lockdowns' were starting to ease but there were still lots of unknowns and media speculation, especially surrounding possible second waves of the pandemic.
We wanted to understand the priorities of higher education institutes (HEI) during this time of uncertainty, so we heard from persons responsible for the safety of students, academics, staff, and those who book and co-ordinate travel. As well as travellers themselves, whether it was for conducting studies, research, business development, or international operations.
What is your role within the education sector?

Personal feelings towards travel post-pandemic
In a post-pandemic world there will still be a lot we don't know about the virus itself – even basic things like how it is spread and how fatal it is and to whom – with anything like the degree of confidence we'd normally expect before making decisions that could directly affect the health of our employees – this in itself is a cause of anxiety.
Willingness to Travel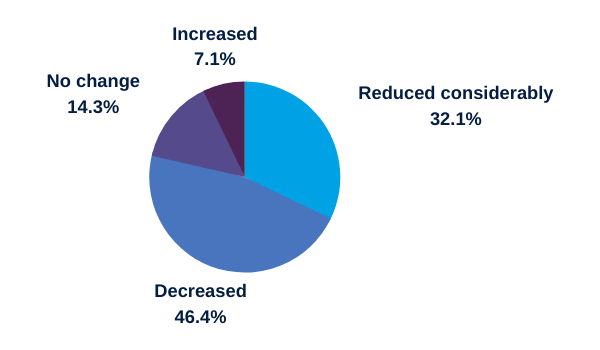 Source: Securewest International, Higher Education Survey 2020
Our survey showed that willingness to travel had decreased by 46.4% and reduced considerably by 32.1%.  The current situation and unknowns can cause anxiety about the safety of even the most mundane activity, such as visiting local shops, let alone international travel. It has never been more important to be able to access objective, accurate advice from a health and medical risk specialist, and the kind of reassurance that could provide might make all the difference. What will your institution have to do to make you more willing to travel post-Covid-19?
Feeling safe whilst travelling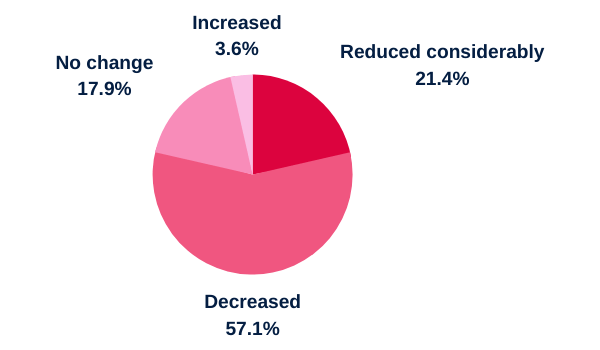 Source: Securewest International, Higher Education Survey 2020
Nearly 80% of the survey's respondents feel less safe whilst travelling due to the pandemic, which could result in staff and students not wanting to travel, even if it is classed as essential – it could be that they or those close to them are more vulnerable to the virus.
"Justify why travel is essential at local and international level, what measures are in place to protect everyone if travel cannot be postponed"
Source: Securewest International, Higher Education Survey 2020
A good Travel Safety Policy is essential to any Travel Risk Management Program and should address the issue of how to manage staff/students who choose not to travel even where all appropriate risk mitigation steps have been taken and identify other individuals who could undertake the trip instead.
Finding Alternatives to Travel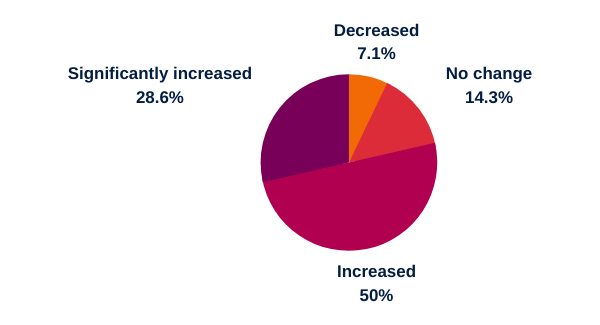 Source: Securewest International, Higher Education Survey 2020
At the heart of addressing traveller anxiety is providing reassurance that you as an HEI take the matter seriously, are taking the correct and proportionate steps, and that travel is, at least in the near term, undertaken voluntarily, with no prejudice should staff/students choose not to travel.
To provide this reassurance and to instil confidence, a well thought out, clearly articulated, and communicated Travel Risk Management Program, underpinned by a Travel Safety Policy, is essential and this is where a good third-party global assistance company can support HEIs, especially those who may not have a dedicated travel risk management specialist.
What measures can be put in place to ease traveller anxiety post-pandemic?
Whatever the timeframes, when restrictions are lifted and HEIs start to travel, Duty of Care responsibilities and Travel Risk Management have never been more important, ensuring that those willing to travel are supported from both a medical and travel safety perspective.

Source: Securewest International, Higher Education Survey 2020
There will also be an increased expectation that the HEIs can respond and support them should things go wrong.
"Given my status as a non-UK citizen employed by a UK institution, I would like my institution to actively link with UK representations abroad and establish procedures for their employees to be eligible for UK support (e.g. in case of evacuation) rather than rely on individuals' initiatives and contacts."
Source: Securewest International, Higher Education Survey 2020
70% of respondents said they have increased/significantly increased their emphasis on Travel Risk Management. The numbers will be fewer and travel more expensive, but business essential travel will resume.

Source: Securewest International, Higher Education Survey 2020
To do so employees' expectations will be higher with regards to what their institution is doing to support them before and during travel and, just as importantly, upon their return should they have to self-quarantine.

Source: Securewest International, Higher Education Survey 2020
Pre-Covid-19, HEIs may have relied on their insurance providers and Travel Management Companies to deliver a base level of Travel Risk Management for their travellers such as pre-travel advice and health and safety alerts whilst travelling and their insurers to respond to medical and security emergencies.
"…… our travel approval systems are clunky and challenging to navigate when things are changing quickly"
Source: Securewest International, Higher Education Survey 2020
The services of a dedicated third-party global assistance company were seen by many as an expensive luxury that they could not afford.
"I found the acknowledged inability of our insurance company to provide medical evacuation when I found myself stranded in DR Congo was quite concerning(sic)."
Source: Securewest International, Higher Education Survey 2020
Post-Covid-19, this needs to be revisited considering the added complexities to safe travel brought about by the virus. A good travel risk management company will be able to provide expert advice and support throughout the travel cycle and to support organisations in their navigating the new travel "normal".
Receptiveness to location monitoring services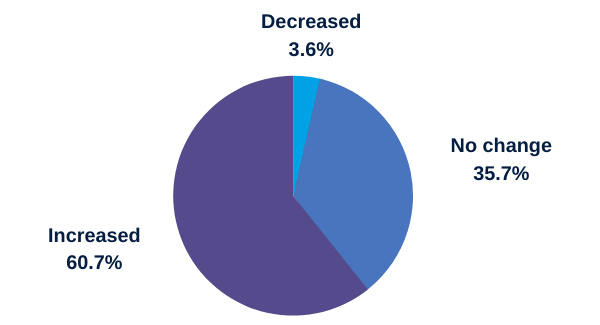 Source: Securewest International, Higher Education Survey 2020
Whilst travelling, an HEI needs to be able to locate and communicate with their travellers in real-time, and have access to relevant and up to date information and advice surrounding changes in the health and safety landscape so that they can respond quickly and efficiently in the best interests of their staff.  However, the term 'tracking' has historically been thought of as intrusive, impacting travellers right to privacy. This has started to change significantly – our survey shows that respondents' receptiveness to location monitoring services had increased by 60.7%.
With regards Data Privacy there is now more of an understanding and acceptance among employees that their institution would be acting in their best interests by conducting targeted searches to geo-locate them in real-time, in the event of a critical incident, so the data privacy argument is now less of a contentious issue.
Main challenges
Many respondents from the survey acknowledged that their current travel procedures and travel risk management plans aren't as robust as they once thought. Many highlighted that there is a lack of communication, understanding who should be contacted in case of an emergency, and how they would access detailed information, including travel restrictions for individual countries.
How important is it for you to monitor Covid-19 in the areas your travellers are visiting?

Source: Securewest International, Higher Education Survey 2020
At this time of uncertainty, it's key to highlight these challenges and put suitable solutions in place to ensure there is a clear strategy to follow, for all travellers and travel organisers. There may have been a plan for the 'typical' high-risk region but post-pandemic, this has the potential to significantly increase. Receiving safety alerts specific to a traveller's location, and expert advice can provide the insight needed by the traveller to feel comfortable moving forward with the trip. Country and individual-specific risk assessments are also critical to gain as much knowledge pre-trip as possible, which also opens the possibility of pre-trip training if it is clear certain issues will arise.
Below is a case study about one of Securewest's HEI clients, who saw the benefits of using a third-party risk management specialist with global ground support and a 24/7/365 response centre.
Case Study
At the start of the Covid-19 outbreak, British National (Sam) was on a University placement in Calabria, Italy.  Sam's University has been using Securewest's SPHERE services to Prepare, Safeguard, and Respond for their students on overseas placement.
On 30th January the first Covid-19 cases were confirmed in Italy leading to the first lock-down on 21st February, with further restrictions on movement imposed on 9th March. On 10th March airlines started to cancel flights to and from Italy. Sam was due to return to the UK on 16th March.
The University contacted Securewest 24/7 Global Response Centre to ask us for assistance on Thursday 12th March at 0800hrs. All public transport had been suspended, and our advice was to change Sam's flights and to take the earliest possible flight before total lockdown.  The decision to evacuate Sam was authorised by University at 2053 hrs that evening.  Working through the night our 24/7 Global Response Centre worked with the Universities TMC and insurance provider to re-arrange flights, and our pre-vetted ground services partner to provide transport to the airport in Bari.
Sam was collected from his residence by Securewest Ground Partner at 0645hrs the following morning, Friday 13th March, and driven to Bari International Airport where he was able to catch his flight back to the UK arriving safely at 1645hrs.  Italy was placed under total lockdown later that same day.
Throughout the case, Securewest coordinated with University Insurers, their dedicated Travel Management Company, and our local pre-vetted Ground Service Provider, keeping Sam and the University updated throughout.   We actively monitored his movements during the process using the SPHERE App location and communication capabilities, providing support and reassurance throughout.
Following Sam's successful re-patriation we conducted a full review of the services and procedures with the University to support their decision-making process and to update their procedures. This included making changes to the authorisation process which had led to a 12-hour delay over the decision to authorise the evacuation.
Conclusion
Navigating this new world of travel isn't going to be easy but we've together our top 10 considerations to ensure safe international travel post-pandemic:
Reassurance: Assuming you have rejected the obvious alternatives options to travel, the first step is to reassure your travellers that the risks they might face are manageable and that you've done everything you reasonably can to ensure they are properly prepared. This can be done by putting a Travel Risk Management plan together and conducting country-specific risk assessments.
Uncertainty: There is a lot we still don't know about the virus itself so it's never been more important to be able to access objective, accurate advice from a health and medical risk specialist, and the kind of reassurance that could provide might make all the difference.
'Reasonable concerns' about 'reasonable requests'?:There are various reasons why some people might still not want to travel, and these will seem reasonable to those people: your policy might also address the issue of how to manage employees who choose not to even where all appropriate steps have been taken, and identify staff who could undertake the trip instead.
The future of air travel: Of the commercial carriers who survive the loss of revenue during the 'lockdown' period, there is pressure to ensure cabins are as 'virus-proof' as possible, which seems very likely to transform the experience of air travel. With more stringent pre-flight medical screening extending queues, 'social distancing' increasing boarding time while reducing the number of seats per flight, PPE making already unpleasant economy travel more uncomfortable, and fewer carriers operating on fewer routes, ticket prices are almost certain to rise significantly – even as the appeal of air travel declines. Even the very low oil price is not much of silver lining, as it is likely to rise again as other sectors of the economy resume. National carriers and state-owned airlines might be somewhat insulated from this, so long-haul trips between major hubs might be less affected, but low-cost short-haul business travel is probably several years away.
Understanding the Covid-19 restrictions: Pre-travel preparation will now be essential. Key tasks are to identify the entry requirements, such as medical checks at the destination; the quarantine restrictions when they return, which might cause significant domestic turbulence; and the nature of any movement restrictions affecting onward travel in the destination country. These questions can be answered using global travel alerts, risk assessments, and gaining advice from experience travel risk management providers.
Response: Consider what to do if an employee fails any screening before boarding or develops symptoms while travelling. If this occurs before the return trip, this could significantly drive up costs, even if they don't have the virus. Does your Insurance provider cover these costs? Do you have access to trusted advice from a travel assistance company? Additionally, with some countries moving to a system of localising restrictions, you will need to think about how you would support a traveller who finds themselves caught out by a change, either renewed restrictions in the destination country or a change to entry requirements at their country of origin.
Consider the impact on destinationcountry service providers: As the hospitality sector has been hit very hard in most countries affected by COVID-19, ensure existing service providers – such as hotels, car services or, in some destinations, security and local responders – are still functioning, and can support you. Moreover, have they adapted their services to 'the new normal' – like deep cleaning between occupancy and introducing 'social distancing' on the premises – to the extent that you would expect?
Accommodation and subsistence: Your policy should also address the viability of 'shared economy' lodging services, the use of 'friends and family' accommodation, and guidelines on taking meals in the hotel where social distancing means fewer tables – or even that bars and restaurants are closed.
Deterioration of security situation while travelling: Destinations affected by Covid-19 could also be experiencing other issues thrown up or exacerbated by the effects of the virus. The relationship between economic development and security is complex, but countries experiencing a significant recession or depression, particularly with high rates of youth unemployment combined with inflation of essential goods, could be vulnerable to a range of additional security issues, from higher rates of street crime to social unrest and increased political instability.
Blending in: In many complex environments, the relative scarcity of international travellers already makes them quite visible, and therefore potentially vulnerable. As international travel contracts, it could become harder to 'blend in' – one of the core principles of personal travel risk management – in many other places as well. 'Safety in numbers,' always something of a two-edged sword, also becomes harder: whether it is moving around, finding a place to stay, or just exiting the arrivals hall, you become easier to spot and potentially to identify. After all, this person is important enough to be undertaking expensive international travel, and thus it's likely that the business is important, it is probably worth at least watching them gauge their vulnerability to a range of potential criminal acts. The dynamics in every country will be different, so access to reliable, accurate, and timely information and analysis will be just as important as ever. The best TRM providers will have access to 'ground truth' focused on the practical impact of the issues and will be responsive to specific requests for information and advice.
Concern about Covid-19 hasn't disappeared and will remain at the forefront of travellers' minds for the foreseeable future. However, the higher education sector seems ready to get back to 'normal' and travel when possible so they can continue with research, teaching, and studying. Many identify the need to alter their current policies and procedures to ensure they are prepared and because of the pandemic, travellers are more receptive to having certain measures in place to ensure their safety, than they may not have accepted before, such as location monitoring. With the right and robust Travel Risk Management procedures in place, travelling could once again feel safer and enjoyable.
If you would like to discuss Travel Risk Management solutions to suit your requirements, including our technical partner Safeture's Covid-19 tracker, risk assessments and global alerts, during these unprecedented times, or to prepare for post-pandemic life, then please contact us today at sales@securewest.com
Further reading: