The Securewest International Global Response Centre (GRC) recorded 9 maritime related incidents during the reporting period of 10 – 16 Aug 2021.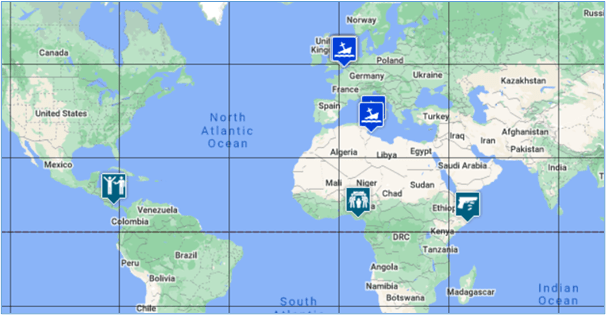 The following incidents were recorded:
10-AUG-21 – Kidnapping – It was reported that five people were kidnapped along the Bonny River near Onne Federal Ocean Terminal, Nigeria
11-AUG-21 – Migrant and Refugee – UK and French authorities intercepted 108 migrants attempting to cross the English Channel, one person was reported to have been airlifted to hospital.
12-AUG-21 – Migrant and Refugee – French authorities reported that a vessel containing approximately 40 migrants began to take on water whilst crossing the English Channel.
12-AUG-21 – Migrant and Refugee – The UK Border Force reported intercepting rescuing 592 migrants arriving on Kent beaches after crossing the English Channel.
13-AUG-21 – Attack – A vessel was attacked approximately 100nm NE of Mogadishu, Somalia. UKMTO have received information that the vessel and crew are now safe
13-AUG-21 – Robbery – An unlocked fiberglass dinghy with engine was stolen from the Cabanas area in Panama.
15-AUG-21 – Migrant and Refugee – Seven boats packed with hundreds of migrants arrived on the southern Italian island of Lampedusa
15-AUG-21 – Migrant and Refugee – Bangladeshi migrants have been rescued after their boat capsized in Tunisian waters.
15-AUG-21 – Migrant and Refugee – Five children and 150 adult migrants were intercepted by UK Border Force in the English Channel.

Migrant and Refugee Incident: 
This could involve Search and Rescue (SAR) operations, or information about a boat capsizing and people drowning, or an attack on the group.
Kidnapping:
Unauthorized forcible removal of persons belonging to the vessel from it.


Attack: It is clear that weapons have been discharged against the vessel or a clear attempt to board the vessel has been made by the attacking vessel (s).

Robbery: Theft from a vessel or from persons aboard the vessel.
We provide a wide range of Maritime Security and Intelligence services. For further details please contact +44 (0)1548 856 001 or email us.