The Securewest International Global Response Centre (GRC) recorded 9 maritime related incidents during the reporting period of 13-19 July 2021.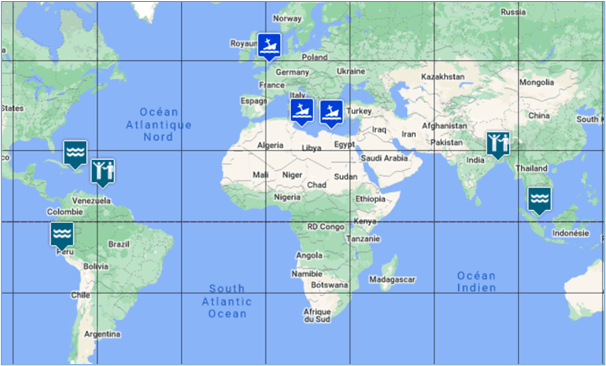 The following incidents were recorded:
13-JUL-21 – Boarding – Five persons using ropes boarded an anchored tanker in Callao Anchorage, Peru. Duty crew on routine rounds noticed them and raised the alarm. Seeing the crew's alertness, the perpetrators escaped in an old motorboat.
13-JUL-21 – Robbery – Robbers boarded an unknown berthed bulk carrier in Haldia Port, India unnoticed. The duty engine crew later noticed the padlock of the entrance door to the engine room broken and spares missing.
15-JUL-21 – Robbery – Cruisers aboard a yacht anchored in Mt. Hartman Bay found their dinghy had been stolen overnight.
16-JUL-21 – Boarding – An anchored bulk carrier was boarded in Port au Prince anchorage, Haiti. Five intruders carrying a gun and knives boarded the ship via long ladders. The intruders fled after hearing the alarm and seeing the crew alert.
16-JUL-21 – Migrant and Refugee – Morocco's navy says it has rescued 344 migrants, including women and children, after their boats ran into difficulty in the Mediterranean and Atlantic.
17-JUL-21 – Boarding – An underway bulk carrier was boarded approximately 35 nm E of Port of Singapore. Five intruders carrying knives were reported outside the steering room by the crew. As the alarm was sounded, the intruders escaped without taking anything.
17-JUL-21 – Boarding – The underway bulk carrier ADVENTURER was boarded approximately 7 nm NW of Bintan Island, Indonesia. The five intruders made good their escape once the alarm was sounded without stealing any ships items.
18-JUL-21 – Migrant and Refugee – Turkey's TCG Gediz frigate, on observation duty off Libya, rescued 80 migrants who were dragged toward Tunisia's coasts on a boat, the Defence Ministry announced on Sunday.
19-JUL-21 – Migrant and Refugee – At least 430 migrants crossed the English Channel to the UK.
Key:

Robbery: Theft from a vessel or from persons aboard the vessel.

Migrant and Refugee Incident:
This could involve Search and Rescue (SAR) operations, or information about a boat capsizing and people drowning, or an attack on the group.

Boarding: Unauthorized boarding of a vessel by persons not part of its complement without successfully taking control of the vessel.
We provide a wide range of Maritime Security and Intelligence services. For further details please contact +44 (0)1548 856 001 or email us.