The Securewest International Global Response Centre (GRC) recorded eight maritime related incidents during the reporting period of 23 – 29 November 2020.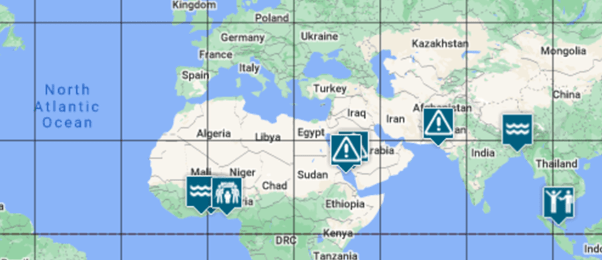 23-NOV-20 – General Security Warning – It has been reported that naval ships will carry out Surface, Anti-Aircraft and Depth Charge LIVE FIRING PRACTICE between 0400 to 1700 UTC from 16-20, 23-27 and 30 November 2020. Details – Link
24-NOV-20 – Robbery – Four armed robbers boarded an anchored tanker in Dumai Anchorage, Indonesia. The duty oiler on routine rounds was threatened by the robbers before they escaped with stolen engine spares
25-NOV-20 – Boarding – The anchored tanker Epic Bolivar was boarded by three armed intruders in Pussur River, Mongla, Bangladesh. Seeing the alerted crew, the intruders escaped without taking anything
25-NOV-20 – General Security Warning – Saudi-led coalition forces announced that they intercepted an explosives-laden remote-controlled vessel reportedly launched from Houthi-controlled territory in Yemen
25-NOV-20 – General Security Warning – The oil tanker AGRARI was under attack at a Saudi Arabian terminal in the Red Sea, about 108 nm north of the border with Yemen
26-NOV-20 – Kidnapping – Reports indicate that the boarding of the St Kitts flagged general cargo vessel MILANO resulted in the kidnap of 10 crew members. It has subsequently been reported that the vessel is now safe
27-NOV-20 – Boarding – A MV was boarded in Takoradi Anchorage, Ghana. The duty officer found two intruders onboard during a safety round. Nothing was reported stolen. Crew and vessel reported safe
29-NOV-20 – Kidnapping – The crude oil tanker MV AGISILAOS was boarded by unknown persons resulting in the kidnap of 4 crew (2 Filipino, 1 Romanian, 1 Russian) approximately 75nm S of Lome, Togo. Vessel is now safe, and incident closed
Key:

Boarding: Unauthorized boarding of a vessel by persons not part of its complement without successfully taking control of the vessel.

General Security Warning: Incidents which do not fit in the other categories, but enhance the situational awareness, e.g. flag state advisories or an attack on a non- commercial vessel such as a warship.


Kidnapping: Unauthorized forcible removal of persons belonging to the vessel from it.
Robbery:
Theft from a vessel or from persons aboard the vessel.

We provide a wide range of Maritime Security and Intelligence services. For further details please contact +44 (0)1548 856 001 or email us.