The Securewest International Global Response Centre (GRC) recorded 11 maritime related incidents during the reporting period of 27 July to 2 Aug 2021.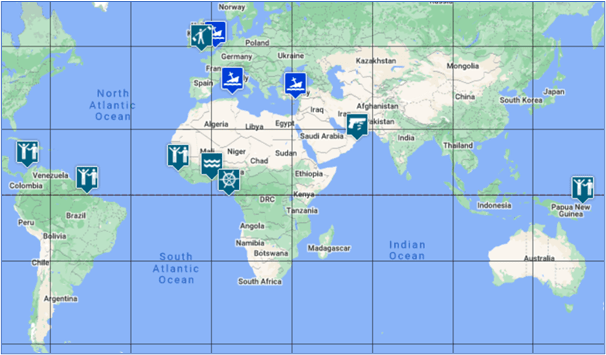 The following incidents were recorded:
27-JUL-21 – Suspicious Approach – An unknown MV reported a suspicious approach by one fishing vessel and two skiffs whilst 98nm W of Port Gentil, Gabon.
28-JUL-21 – Migrant and Refugee – Turkish authorities intercepted a boat carrying more than 200 Afghan migrants in the Aegean sea heading for Europe.
29-JUL-21 – Attack – Reports indicate that the Liberian flagged vessel MERCER STREET was attacked approximately 155nm SSE of Muscat, Oman. Allegations of a drone being involved were unconfirmed. Two persons on the vessel were reported as deceased. Investigations remain ongoing.
29-JUL-21 – Robbery – An anchored bulk carrier was boarded by two intruders whilst in Cartagena anchorage, Colombia. The intruders then made their escape with stolen items.
29-JUN-21 – Migrant and Refugee – Approximately 60 migrants made the Channel crossing and landed in Dover, Kent.
29-JUL-21 – Robbery – The tanker PUFFIN PACIFIC was boarded by two intruders whilst in Rabaul Port Pilot boarding area, Papua New Guinea. The intruders armed with a long knife were sighted by the duty watchman holding a laptop, and subsequently made good their escape.
30-JUL-21 – Robbery – An anchored general cargo ship was robbed in Fazendinha Anchorage, Brazil. Undetected robbers boarded the ship and escaped taking ship's stores.
31-JUL-21 – Boarding – Three intruders were spotted attempting to board an MV whilst at anchor in Accra, Ghana. The crew were twice able to repel the intruders.
01-AUG-21 – Robbery – Four armed intruders boarded an MV whilst anchored 13nm SW of Conakry Port, Guinea. The intruders broke into the master's cabin and took personal belongings and money before making their escape.
01-AUG-21 – Migrant and Refugee – Two humanitarian rescue ships pulled 394 migrants from a dangerously overcrowded wooden boat in Tunisian waters, 42nm from the North African coast.
02-AUG-21 – Stowaway – Four men were spotted climbing over security fencing shortly after a ferry arrived from France, in Millbay International Port, Plymouth. Police later arrested the four illegal immigrants.

Robbery: Theft from a vessel or from persons aboard the vessel.

Migrant and Refugee Incident:
This could involve Search and Rescue (SAR) operations, or information about a boat capsizing and people drowning, or an attack on the group.

Boarding: Unauthorized boarding of a vessel by persons not part of its complement without successfully taking control of the vessel.

Stowaway: A person(s) who hides aboard a ship in order to obtain free transportation

Suspicious Approach: All other unexplained activity in close proximity by an unknown vessel.

Attack:
It is clear that weapons have been discharged against the vessel or a clear attempt to board the vessel has been made by the attacking vessel (s).
We provide a wide range of Maritime Security and Intelligence services. For further details please contact +44 (0)1548 856 001 or email us.