The Securewest International Global Response Centre (GRC) recorded 10 maritime-related incidents during the reporting period of 30 March – 5 April 2021.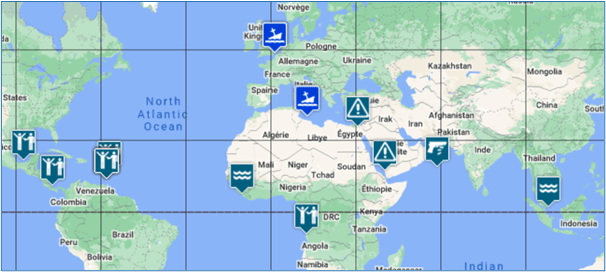 30-MAR-21 – Robbery – While at anchor the container ship BALTIC NORTH, was robbed in Jakarta Anchorage, Indonesia.
30-MAR-21 – Robbery – Whilst under tow by the tugboat POSH FALCON, the unmanned rig SCARABEO 7 was stolen approximately 4 nm W of Port of Singapore in the Singapore Strait.
31-MAR-21 – Drugs Interdiction – A multi-agency team of investigators boarded the SAMJOHN SOLIDARITY at Chesapeake Bay, USA. Cocaine weighing approximately 20 kg was found.
02-APR-21 – Robbery – A MV was robbed in Conakry anchorage, Guinea.
03-APR-21 – General Security Warning – It was announced that Air Defence units will fire live ammunition on 6th and 7th of April, in an area centred 25 11 00 N, 066 45 00 E. Link
03-APR-21 – General Security Warning – A Saudi led coalition foiled an impending Houthi attack by sinking a WBIED in the Southern Red Sea.
03-APR-21 – Migrant and Refugee – Approximately 160 people travelling in two boats were taken to Lampedusa in Southern Italy. A third boat, carrying circa 110 people has not been found.
04-APR-21 – Migrant and Refugee – It was reported that more than 200 migrants have been intercepted while attempting to cross the English Channel over recent days.
05-APR-21 – Migrant and Refugee – A boat encountered difficulties in the English Channel and three people were taken to hospital with hypothermia.
05-APR-21 – Stowaway – Five migrants were discovered hiding onboard a ship at Dover dock.
Key:

Stowaway: A person who is secreted on a ship, or in cargo which is subsequently loaded on the ship, without the consent of the shipowner or the Master or any other responsible person and who is detected onboard the ship after it has departed from a port.


Migrant and Refugee Incident:
This could involve Search and Rescue (SAR) operations, or information about a boat capsizing and people drowning, or an attack on the group.

Robbery: Theft from a vessel or from persons aboard the vessel.

General Security Warning: Incidents which do not fit in the other categories, but enhance the situational awareness, e.g. flag state advisories or an attack on a non- commercial vessel such as a warship.
Drugs Interdiction:
Focused on interrupting illegal drugs smuggled by sea, usually large amounts of drugs seized

We provide a wide range of Maritime Security and Intelligence services. For further details please contact +44 (0)1548 856 001 or email us.