The Securewest International Global Response Centre (GRC) recorded five maritime related incidents during the reporting period of 7 – 13 December 2020.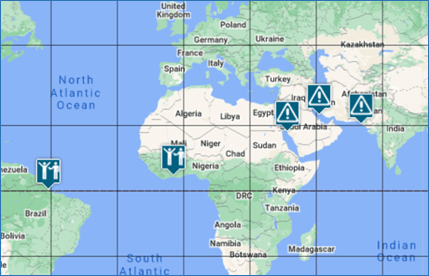 08-DEC-20 – General Security Warning – Pakistan Navy will be conducting Live Fire exercises throughout December – LINK
08-DEC-20 – Robbery – An anchored bulk carrier was robbed of ships properties in Macapa Anchorage, Brazil.
08-DEC-20 – Robbery – A berthed MV was boarded at Abidjan port, Côte d'Ivoire. An unknown number of intruders stole a mooring rope and a pump before escaping in a small canoe.
09-DEC-20 – General Security Warning – LIVE FIRING PRACTICE will take place 09-Dec-2020 – Link
13-DEC-20 – General Security Warning – A MT has experienced an explosion whilst carrying out operations approximately 5 nm SW of Port of Jeddah, Saudi Arabia. There are also unconfirmed reports of a second vessel being involved in an incident.
Key:

General Security Warning: Incidents which do not fit in the other categories, but enhance the situational awareness, e.g. flag state advisories or an attack on a non- commercial vessel such as a warship.

Robbery:
Theft from a vessel or from persons aboard the vessel.

We provide a wide range of Maritime Security and Intelligence services. For further details please contact +44 (0)1548 856 001 or email us.