In a poll of 51 organisations conducted during our joint webinar with the Society of Maritime Industries "Post COVID-19 – Getting your teams travelling and back to business" on Thursday 13th August, there were some interesting statistics. When asked "Do you have a travel risk management programme in place?" 31% said 'yes', 23% said 'yes, but I think we could do more', 38% said 'no, but I think we need one'. 8% said 'no, I do not think one is needed' – which came as a surprise.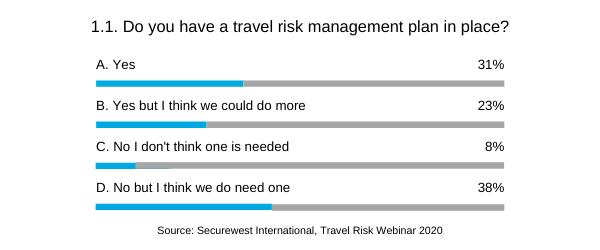 Additionally, 57% stated that they are already travelling, 21% would be travelling by the end of 2020 and 21% will resume business travel once they are fully prepared to deal with any possible risks.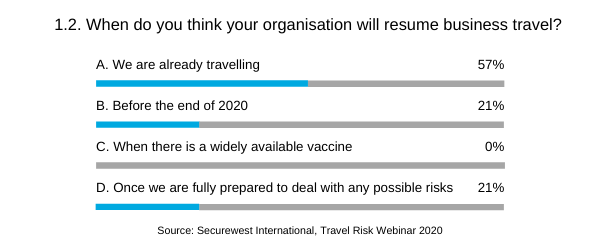 Whatever the timelines for businesses starting to travel again, at the heart of a Travel Risk Management programme lies a comprehensive and robust Travel Security Policy.
To provide reassurance to the organisation's business travellers, and to fulfil Duty of Care obligations, a well thought out and communicated Travel Risk Management Programme, underpinned by a Travel Security Policy, is essential.
An integrated approach to Travel Risk Management should ensure that the company's commitment to the health and safety of its employees is clearly articulated and aligned with relevant policies across the organisation. This will establish the principles, scope, and standards of how the organisation manages travel risk, including their approach to supporting staff through the COVID-19 pandemic and beyond. The objective of the Travel Safety Policy is to minimise the health and safety risk exposure to travellers and to provide reassurance by:
Ensuring awareness of current and emerging travel risks
Assessing the level of risk in relation to employer requirements – this will help to establish what constitutes business essential travel
Identifying appropriate mitigation measures to manage the accepted risks identified in the pre-travel risk assessment
Providing information on relevant risks and appropriate mitigation measures to employees before travel and while travelling
Providing travellers with access to trusted appropriate medical and security 24/7 assistance in the event of an emergency or should they feel unwell
Allowing employees to decide not to travel should they deem the level of risk unacceptable – without prejudice
Once you decide to travel, a Pre-Travel Risk Assessment needs to be conducted. The TRA should be dynamic, current, and tailored specifically to the individual traveller – age, underlying medical conditions, gender, and ethnicity, travel experience, sexual orientation, and dates of travel. As well as identifying the traditional risks – road safety, petty crime, malaria etc – they should now consider COVID-19 specific risks – live cases in the specific city/destination, transmission rates, destination medical capabilities to handle one of your employees should they fall ill whilst travelling, adherence to destination social distancing laws and so forth.
COVID-19 regulations are often complex and can change as governments adapt to increasing or decreasing case numbers. To compound the complexity, restrictions vary between – and often within – countries. Those conducting the risk assessments need to have access to live, trusted information to provide guidance. Our partners Safeture have developed this free live restrictions mapping tool which can provide the much needed independent and current information:

Over the past few weeks, Securewest has been supporting our clients as they prepare to travel again. We have been conducting expert analysis on their existing travel risk management processes, identifying gaps, and providing solutions such as standalone Travel Security Policies and preparing bespoke country and city level pre-Travel Risk Assessments. With these in place we will further support them through our SPHERE TRM services with our Travel Security app-based solution – providing real-time alerts and advice, monitoring their real-time locations, and responding 24/7 should they need emergency support.
If you would like to discuss Travel Risk Management solutions to suit your requirements, including our SPHERE travel risk platform, gap analyses, travel security awareness training, risk assessments and global alerts, then please contact us today at sales@securewest.com
Further reading: